Frequently asked questions
When / why did you start streaming?
---
I started streaming initially for a Twitch emblem on Destiny 1 back in December of 2016. I had no idea what Twitch was or that there was even a chat. All I wanted was the in-game loot. After a few months of streaming directly from my Xbox, I opened an email from Twitch congratulating me on the Affiliate Program. I began to look more into it.

Back in May 2018, I began taking streaming seriously, and began building my setup. I absolutely feel in love with the entertainment and community stream creates! Jumping forward a year later, I was still an affiliate slowly building my community on Twitch; only after E3 in 2019 did I begin to look at Mixer.
In January 2020 after a wonderful experience at PAX South in Dallas, TX, I set a schedule and began splitting my time between Twitch & Mixer.
On March 30th, 2020, I received partnership with Mixer! However, shortly after, Mixer was sold to FaceBook by Microsoft, so I lost my new-found home. Less than 2 weeks after Mixer shut down, Twitch Partner Outreach contacted me and offered me Partnership!
Now, I'm back on Twitch and have achieved my original goal of Twitch Partner.

I am so blessed & absolutely LOVE what I get to do every day!
---
What streaming/gaming setup do you use?
---
I game on Xbox, PS5, & PC!

You can find my stream setup and recommended products on my Amazon Parter Page! https://www.amazon.com/shop/ArielJadeLive CUSTOM ORIGIN PC Case : Corsair 5000D Airflow Exterior Color : White Interior Lighting : iCUE RGB with CORSAIR NODE PRO Current Special Offer: Free US Ground Shipping $50 value Processors: Intel Core i7 10700K 8-Core 3.6GHz (4.9GHz TurboBoost) Motherboard: ASUS ROG Strix Z590-A Gaming WiFi Memory: 32GB CORSAIR DOMINATOR PLATINUM - WHITE 3200MHz RGB (2x16GB) System Cooling: iCUE H150i ELITE CAPELLIX Liquid CPU Cooler — White System Fans: CORSAIR LL iCUE RGB controlled by iCUE software Graphics Cards: NVIDIA 24GB GeForce RTX 3090 Operating System: MS Windows 10 Home Operating System Drive: 1920GB Force MP510 NVMe PCIe M.2 SSD Hard Drive: 2TB Samsung 870 QVO Series Power Supply: CORSAIR RM850 SERIES PLUS GOLD PSU Keyboards: CORSAIR K68 RGB Gaming Keyboard Mouse: M55 RGB PRO Black
---
What instruments do you play? How long have you been playing music?
---
I have been singing before I could talk, and writing songs since I was old enough to write.
I have been playing guitar since I was 8! I picked up mandolin and a little Ukulele along the way.
Music & Entertainment is my passion! I am also a songwriter for BMI.
---
What are your favorite types of games?
---
I love shooter games! Competitive shooters are my favorite.
If I get to shoot people while working with teammates to obtain an objective or just highest kills - such as TDM - I'm all over it. I've recently gotten into RPGs, as well. I LOVE IT.
Now, I would say my content is full of variety - Indies, RPGs, Action, Simulation, FPS, Horror, Puzzle Games, etc. If it's good... - solid story lines - unique characters - satisfying combat ... I'll play it.
---
What got you into cosplay?
---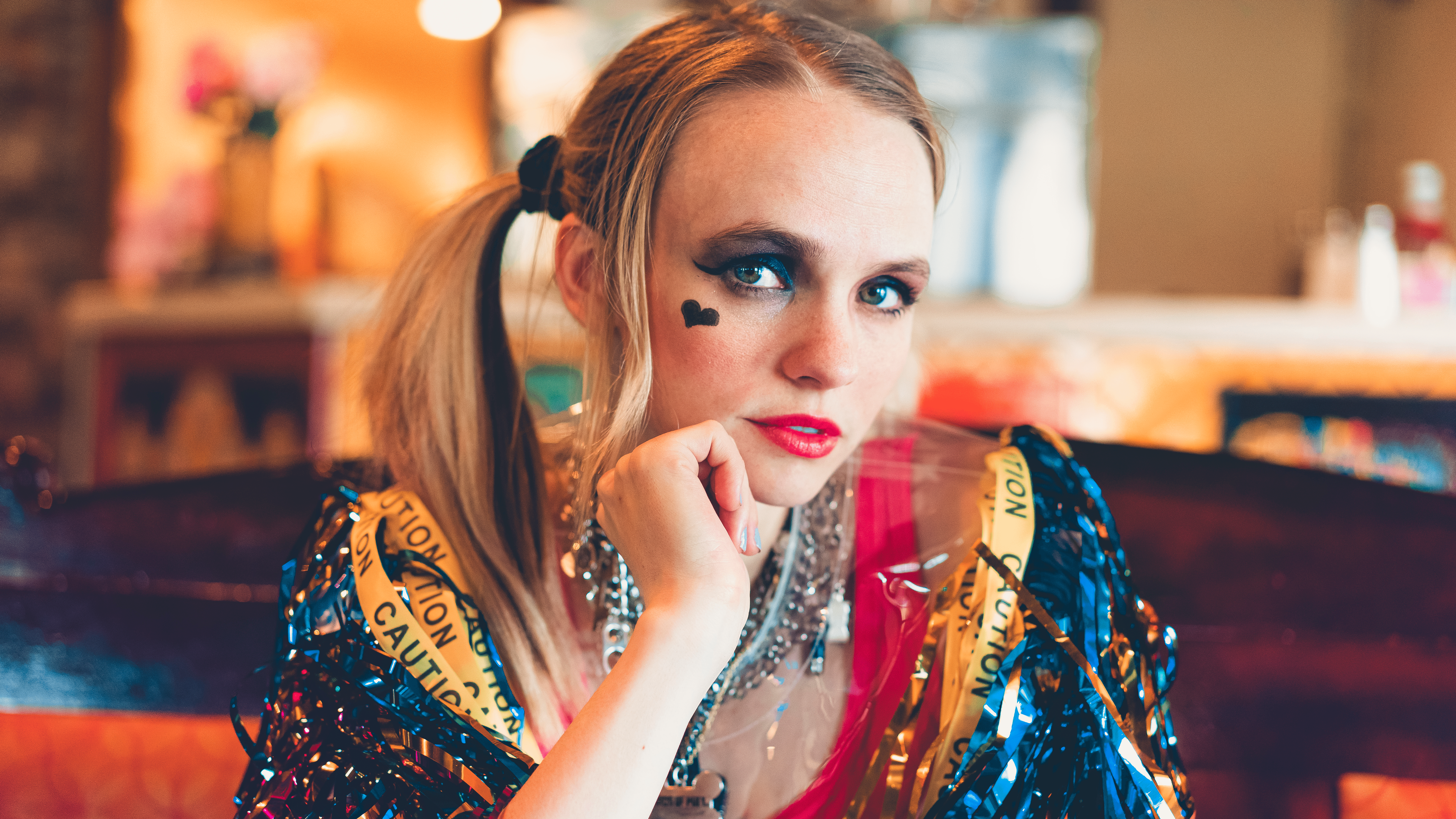 I only recently started up the cosplay side of my content creation.
I LOVE fantasy and fashion. I LOVE making people smile & laugh.
Cosplay gives me another outlet for my creativity and allows me to bring some of my fantasy to life!
Plus, I have tons of fun dressing up!
---
What do you enjoy most about live events?
---
I love the fact that I get to actually meet the people behind the screen names!
In addition to the amazing people we meet, the new games & tech that you get to experience is AWESOME.
---
What is #TeamJaded?
---
Being a part of #TeamJaded means being an important part of a content creation takeover.

We are creating a vibe zone, a positive movement, focused on entertainment and healthy relationships!

We have a wide variety of talent:

Twitch Personalities
eSports Members
Event Hosts
Graphic Artists
Photographers
Editors

Support our content creation team with #TeamJaded on your social media!
Members of #TeamJaded gain access to opportunities, such as influencer contracts & scouting for talent contracts! We also create a supportive, vibing community for our dedicated streamers!
---
How do I apply for #TeamJaded? What do you look for in creators?
---
As I am ready and able to onboard new members into #TeamJaded, I will make an announcemnt on my forums/updates page that will also be shared to my socila media!

There will be an interest form to be filled out via a Google Doc. Subscribe for updates!

__________________________________________________________________________ What do I look for when accepting members into #TeamJaded?
When applying for #TeamJaded, know I specifically look for genuine chat interaction, your brand and aesthetic, your clips, your socials, your overall vibes. Representation of any brand shouldn't be taken lightly. I'm forming more than just a content team, we're a movement! Numbers aren't everything, but your community is!
All of these aspects and more are considered.
---
What games have you streamed?
---
Okay... this list is going to be long, and I will continue to add to it! - Destiny 1 - Destiny 2 - Fortnite - Apex Legends - Call of Duty: Black Ops III - Call of Duty: Black Ops IIII - Call of Duty: Modern Warfare - Call of Duty: Black Ops Cold War - Dark Souls Remastered - Dark Souls II: Scholar of Sin - Dark Souls III - Bloodborne - It Takes Two - Grounded (Alpha) - Dying Light - God of War I - God of War II - God of War III Remastered - God of War - Uncharted Remastered - Uncharted 2 - Uncharted 3 - Uncharted 4 - Horizon Zero Dawn - Sekiro: Shadows Die Twice - Satisfactory - Portal - Portal 2 & Co-Op - Stanley Parable - Splitgate (Beta) - Detroit: Become Human - Last of Us Remastered - Last of Us Part II - Deathloop - Metro 2033 - Metro Last Light - Metro Exodus - Kena: Bridge of Spirits - Marvel's Spider-Man - Marvel's Spider-Man: Miles Morales (100% Completion - Until Dawn - The Dark Pictures Anthology: Man of Medan - The Dark Pictures Anthology: House of Ashes - Resident Evil II Remastered - Red Dead Redemption 2 - Resident Evil: Village - Sherlock Holmes: Chapter 1 - Halo Infinite - Final Fantasy VII Remake - Poppy's Playtime: Chapter 1 (Indie Horror) - A Plague Tale - FFVII Remake (PS5) - Hellblade: Senua's Sacrifice - Assassin's Creed II Remaster - Batman: Arkham Asylum (100% Completion) - Batman: Arkham City - Batman: Arkham Knight I have also done many first looks at a variety of games (not necessarily completing them)! - Hunt Showdown - Remnant: From the Ashes - Valorant - Among Us - First Class Trouble - Pinball FX (sponsored) - Dead by Daylight - Squad - Gears 5 - Paladin's - Spellbreak (Alpha & Beta test) - Resident Evil 7: Biohazard - Dark Alliance - Wolcen: Lords of Mayhem (sponsored) - Tribes of Midgard (Early Release Access) - Spiritfarer (sponsored) - The Ascent - Alien: Fireteam Elite - Super Animal Royale (sponsored) - Hell Let Loose | Darkside RP (Beta) - No Man's Sky - Lost Judgement (Early Access) - Battlefield 2042 Beta - World War Z: Aftermath (DLC) - theHunter: Call of the Wild (Mississippi DLC Early Access) - Vermintide 2 (Co-Op) - GTFO (Co-Op) ...plus many other indies & playtests!
---
---